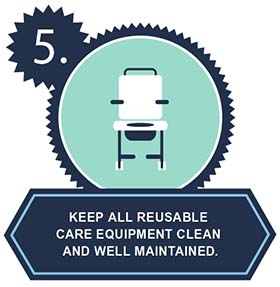 Care equipment is easily contaminated with blood, other body fluids, secretions, excretions and infectious agents. Consequently it is easy to transfer infectious agents from communal care equipment during care delivery.
Care equipment is classified as either:
Single-use – equipment which is used once on a single patient and then discarded. Must never be reused even on the same patient. The packaging carries the symbol below.

Needles and syringes are single use devices. They should never be used for more than one patient or reused to draw up additional medication.
Never administer medications from a single-dose vial or intravenous (IV) bag to multiple patients.

Single patient use – equipment which can be reused on the same patient.
Reusable invasive equipment - used once then decontaminated for example surgical instruments.
Reusable non-invasive equipment (often referred to as communal equipment) - reused on more than one patient following decontamination between each use e.g. commode, patient transfer trolley.
Before using any sterile equipment check that:
the packaging is intact
there are no obvious signs of packaging contamination
the expiry date remains valid
Decontamination of reusable non-invasive care equipment must be undertaken:
between each use
after blood and/or body fluid contamination
at regular predefined intervals as part of an equipment cleaning protocol
before inspection, servicing or repair
Adhere to manufacturers' guidance for use and decontamination of all care equipment.
All reusable non-invasive care equipment must be rinsed and dried following decontamination then stored clean and dry.
Decontamination protocols should include responsibility for, frequency of and method of environmental decontamination.
An equipment decontamination status certificate will be required if any item of equipment is being sent to a third-party, for example for inspection, servicing or repair.
Guidance may be required prior to procuring, trialling or lending any reusable non-invasive equipment. 
Resources
Further information can be found in the management of care equipment literature review.
For how to decontaminate reusable non-invasive care equipment see Appendix 7.