WHO World Hand Hygiene Day 5 May 2023 - Accelerate action together. SAVE LIVES – Clean Your Hands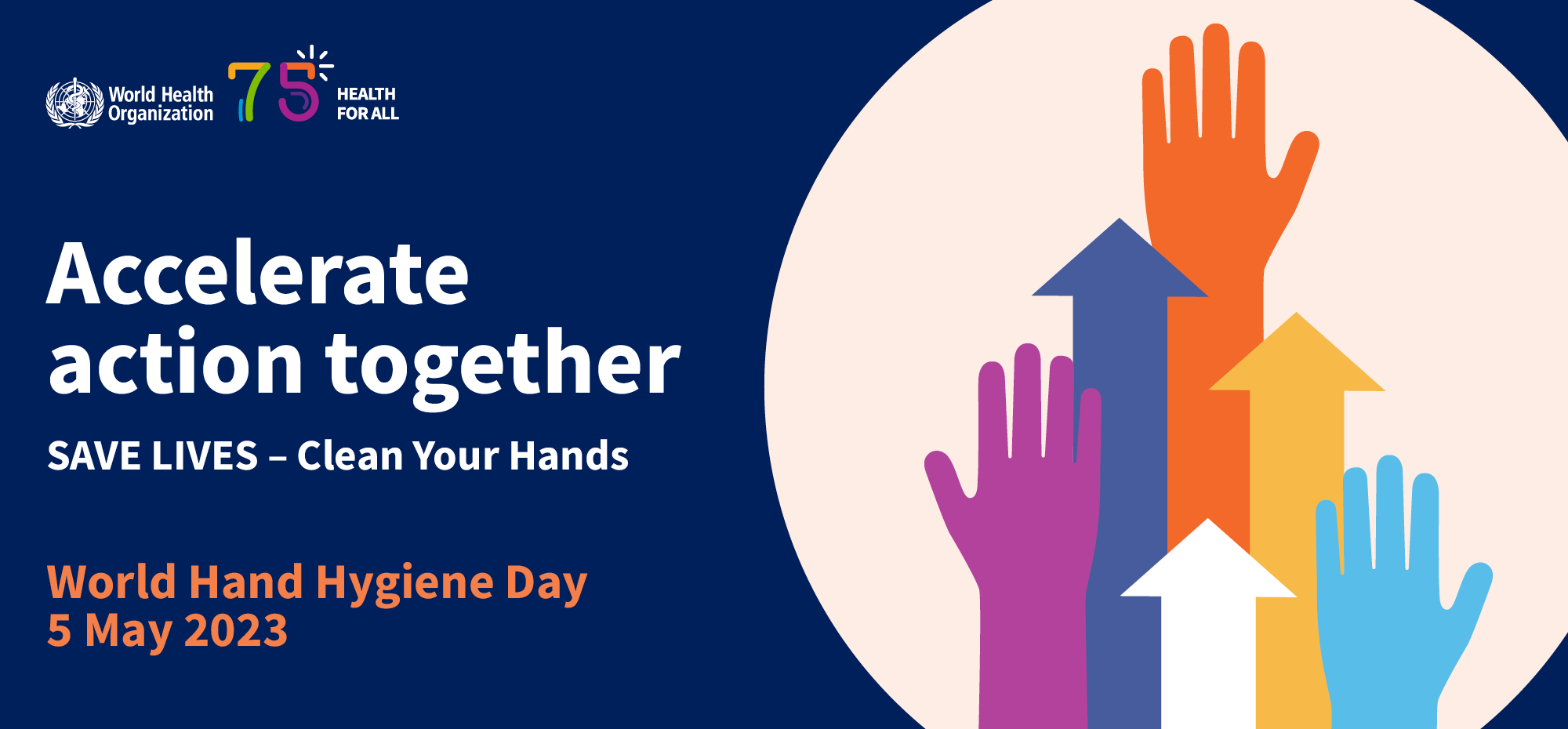 Each year the WHO SAVE LIVES Clean Your Hands campaign aims to maintain a global profile on the importance of hand hygiene in health care and to 'bring people together' in support of hand hygiene improvement globally.
The 2023 theme is 'Accelerate action together' - SAVE LIVES – Clean Your Hands
Together, we can accelerate action to prevent infections and antimicrobial resistance in health care and build a culture of safety and quality in which hand hygiene improvement is given high priority.
This year World Hand Hygiene Day focuses on:
consistent commitment to the 5 moments for hand hygiene by health and care workers could reduce the spread of infectious diseases in health
care settings by up to 50%
hand hygiene using alcohol based hand hand rub or soap and water stops the spread of infection and keeps people safe
Calls to action
Everyone should get involved in hand hygiene and WHO have calls for action for a wide variety of groups.
Health care workers: Love the 5 Moments!
IPC practitioners: Lead the way for clean hands
People who use health care: Join the movement
Social media
Campaign posters and other resources are available to use locally and #handhygiene #infectionprevention #cleanhands should be used in social media posts.
The NSS twitter is NHS National Services Scotland (@NHSNSS) / Twitter and we will be posting tweets from 2 May to 5 May 2023 so would be great to get these retweeted to ensure that the WHO messages are widely seen. 
Webinar on 5th May 2023
Register for the 2023 webinar and find out more about how organisations can engage with the campaign and accelerate progress towards achieving effective hand hygiene at point of care. 
Partnership in action: accelerating improvements in hand hygiene and infection prevention and control (who.int). 
NSS ARHAI Scotland support and promote the aims of WHO Hand Hygiene Day by providing information and guidance on hand hygiene practice that everyone should follow.
NSS ARHAI Resources
Use Chapter 1 of the NIPCM to find out how, when and what product to use for NIPCM. 
Use the step by step hand technique posters to make sure you are performing hand hygiene correctly. 
If you are a healthcare worker you should follow the moments of hand hygiene to stop infection spreading when providing care.
Feedback and further information
If you have any further questions on hand hygiene or comments then email nss.ARHAIinfectioncontrol@nhs.scot